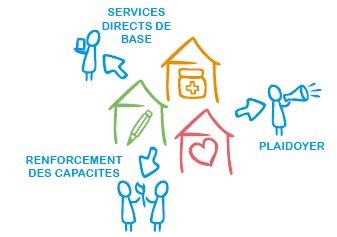 Our domain of intervention are:
Basic direct services essential to support children and young people;

Capacity building: We seek to improve




the ability of families to provide quality care for their children, working directly with them or empowering communities to do the same.

Advocacy for Improved Policies and Practices: We advocate for measures to prevent the loss of parental care, to promote and protect the rights of the child. We also support the development and implementation of quality standards for alternative care.

Partnerships: We build partnerships for the delivery of support services and advocate for quality care.




We form formal and / or informal partnerships with other stakeholders while combining our efforts to ensure that children in our target group have access to a range of relevant services and the formation of alliances for the protection of human rights and the child.